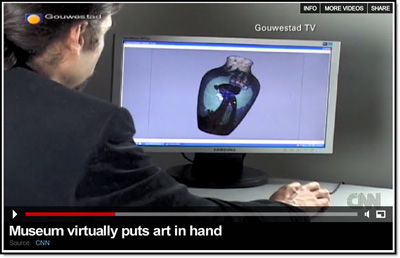 What is 3D scanning?
It's an upcoming vision capture medium. More specifically, 3D scanning is the process of converting objects or scenes from our real world into 3D data. Once digitized the data can be visualized on your PC, modified in just about anyway, stored, exchanged with others and even printed just like any other data.

What is GRASP 3D scanner ALPHA Release?
GRASP is a 3D topographic scanner that allows you to scan in objects in 3D using a video camera, a laser line and some basic materials. Its technology is easy to use with minimal reliance on hardware. Absolutly low cost. Yet it has the potential to rival some of the best scanners on the market in many different ways.

What does ALPHA Release mean?
GRASP is currently still in development as a commercial product, it's a work in progress. We are already providing a public release so that you can get involved and join us in the development process. The application is not limited in anyway. As we move to a BETA stage more and more elements of the software will become available. Again, with no limits.

What can I scan?
If your laser or projection device can illuminated it with a nice thin line and your camera can capture this then there is a solid chance that you can scan it in. And, GRASP includes many features to make the process as easy as possible while still allowing advanced users to set things the way they want.

How does it work?
Download GRASP 3D Scanner Quick Start Manual
Where can I get GRASP?
Download GRASP 3D Scanner (ALPHA Release Version 1.3)
Where can I get a laser?
We currently provide 2 types of absolutly low cost high quality lasers to get started with 3D scanning. The first is an focus adjustable red line laser which produces a very thin line. The second is a bright green, fixed focus laser which produces a high intensity thin line. Note: avoid direct or reflective eye exposure with these lasers!

Laser Info
Can I use a Projector instead of a Laser?
Apart from using a laser, projecting a thin line using a Projector is also possible for 3D scanning. We have created a mini application to do this called "Line Projection Sweeper". Use the link below to dowload it.

Download Line Projector Sweeper (BETA)
Video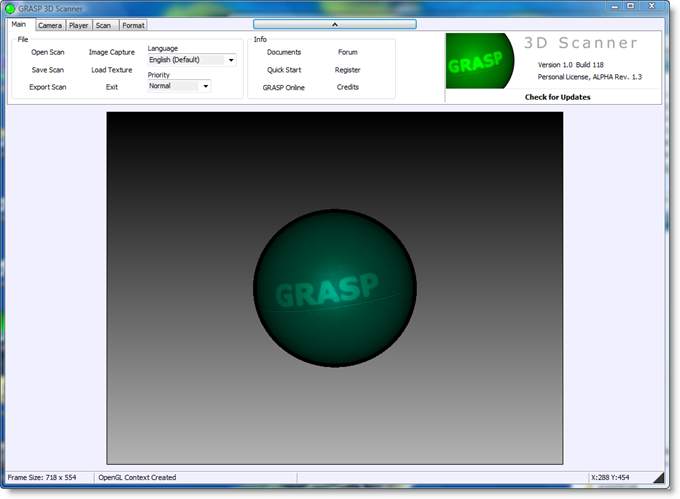 Some First Results




Minimum Requirements
- Pentium 2.5GHz CPU
- 1024mb System Memory
- OpenGL Supported Graphics Card, nVidia or ATI Only
- .NET Framework Not Required
- DirectX 9 or higher

History
ALPHA V1.3 Private Release November 2008
ALPHA V1.3 Public Release April 2009 Build 85

Current Release
ALPHA V1.3 Public Release March 2010 Build 143
Complete Solutions; Services and Custom Builds
Today its possible to scan large areas of the earths surface to large molecules. But, if you know something about 3D scanning then you'll know that no single scanning technology captures it all. Each technology offers it's own merit and limitations. The trick is to choose the right technology for the application. That's why intricad has invested in the development of several different technologies and provides complete solutions to meet your specific 3D scanning needs. We can offer single systems for highly specialized tasks as well as develop mass produced products.

Forum
Go to intricad forum
Contact